BEFORE YOU GO ON EDITING, WE HIGHLY ENCOURAGE YOU TO READ THE RULES.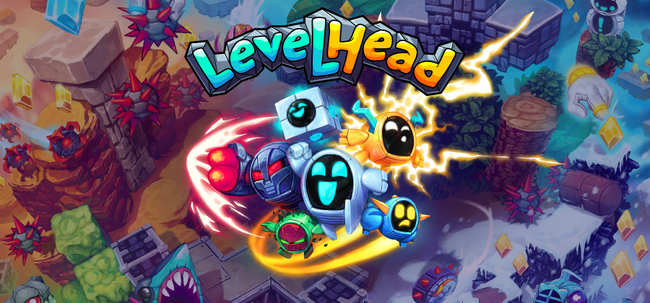 Levelhead is a Platformer Maker by Butterscotch Shenanigans, released April 30, 2020 on Steam (Windows), Xbox One, the Microsoft Store, Xbox Game Pass, Google Play, Google Play Pass, the App Store, Nintendo Switch, and the Epic Store, becoming the only game in history to launch simultaneously spanning all of these platforms. At launch, Levelhead supports 12 languages: English, Italian, Spanish (Spain + LATAM), Portuguese (Brazilian), Russian, German, French, Chinese (Traditional and Simplified), Japanese, and Korean.
Cross-Platforminess
Levelhead players enjoy access to Butterscotch Shenanigans' signature "Cross-Platforminess," powered by Rumpus, which is Butterscotch Shenanigans' back-end web service. By linking their various platform accounts through Rumpus, players are able to migrate accounts, save data, and cloud-saved workshop levels between all supported devices and platforms.
New Employee Handbook
Check out the Levelhead New Employee Handbook to find out everything you need to get started, available in text and audio format.
Level sharecodes & playlists all have their own unique code that can be easily shared with other players. Consoles do not have access to an in-game clipboard, but all players can visit their Rumpus account on the Levelhead website to grab any level sharecodes or to create a playlist. Reddit has a dedicated post flair for easily finding sharecode posts, and Discord has a dedicated #levelhead-sharecodes channel.
Events
Check out the community driven Levelcup to stay up to date with the latest contests and challenges.
Support
Levelhead FAQ
Visit the FAQ to find answers to commonly asked questions.
Levelhead Support
The Support page is a good place to visit if you are experiencing issues accessing or using Levelhead on your device/console.
Levelhead Feedbag
The easiest way to report bugs and send feedback is by using the in-game feedback button. You can also visit the web-based version and manually enter the OS and version number.
Synopsis
Levelhead takes place some years after Crashlands and is a continuation of the Bureau of Shipping universe.
Inspired by Juicebox, Flux Dabes' robot companion, the Bureau of Shipping created a "Roboneering" division that sought to fully automate their workforce. After 17 generations of Robos, they finally built GR-18, the perfect package delivery robot. However, GR-18 turned out to be too dumb when first manufactured, and it was unable to complete basic deliveries. So the Levelhead division was created, and the Bureau of Shipping hired a new wave of employees called "Levelheads," whose job it is to build LEVELs (Limited Exercise for eValuating employEe Limitation) to train their GR-18s and prepare them for real-world delivery scenarios.
Once hired by the Bureau of Shipping, it's up to the player to complete the Bureau's training program while rising through the ranks of the Levelhead Division by building LEVELS and publishing them for their fellow Employees to train their GR-18s on.
Characters
GR-18 is the small, round robot controlled by the player during gameplay.
GR-17 is the previous generation of Delivery Robo. GR-17s were too big and kept getting stuck in things.
The Trainer is the disembodied voice that guides the player through most of the training presentations, voiced by Sam Coster.
MAYA is the Bureau of Shipping's Most Advanced Yet Acceptable artificial intelligence. MAYA teaches the player important facts about the Bureau of Shipping and the Levelhead Division, and is voiced by Aimee Smith.
GR-18 Techniques
Visit the big bad list of Levelhead techniques This is an ongoing list and created by the community. Techniques are organized roughly from easiest to most difficult to perform with some grouping for like techniques. Happy learning!
Finding Levels
Training (Campaign)
Click on the ship in the bottom right of the main game screen to play 93 expertly made Training (campaign) levels.
The Marketing Department
Available in game and via the web
The Tower
Available in-game and via the web
Daily Builds
Available in-game by clicking the base of the Workshop.
Community Spotlight
Community Spotlight Blog posts come out every Friday afternoon and highlight great levels made by the community.
Discord
Visit the #levelhead-sharecodes channel on the Levelhead Discord
Reddit
The Levelhead Reddit showing Reddit posts tagged with the sharecodes flair.
Twitter
Twitter posts tagged with #levelhead which often have sharecodes.
Music & Audio
The full score and sound effects of Levelhead were produced by video game music duo Fat Bard.
The Levelhead soundtrack is available for streaming through Spotify, or purchase through Steam or Bandcamp.
Development
Levelhead was developed over 28 months by Butterscotch Shenanigans using Game Maker Studio 2. Development began in January 2018 with a small test prototype that featured a limited editor and basic platforming, with the ability to publish levels and download them. The goal of the prototype was to test-run the web technology and game systems required to build the foundations of the game and test the scope of the design. The prototype proved interesting and feasible, so the team at Butterscotch Shenanigans decided to move forward with the project.
GDC 2018 (April 2018)
By April 2018, 11 weeks into development, Levelhead had a name and a main character and made an appearance at GDC, where it was covered by a small number of press outlets, including TouchArcade. At this time, the contours of the gameplay were still not solidified. For example, GR-18 did not have a Tow Cable, and none of the powerups were finished. There a small campaign shown, but it was only built for demo purposes.
Nindies Showcase (August 2018)
In August 2018, Levelhead was announced for the Nintendo Switch via the Nindies Showcase, and the first Levelhead trailer was revealed to the public. By this point, the game had the Tow Cable mechanic, three biomes, and same-screen multiplayer.
Steam Early Access (April 2019)
Levelhead was launched into Steam Early Access on April 18, 2019 with a new trailer. Butterscotch Shenanigans deployed a weekly update for the first 10 weeks, and then slowed down the update schedule to allow for time to bring in additional features. In early March 2020, toward the end of Early Access, Butterscotch Shenanigans declared the game in "pre-launch" mode and released one final patch.
Through Steam Early Access, Levelhead maintained a review score averaging 97% positive.
Accolades
During Early Access, Levelhead won the 2019 IndieDB Community Award and first place in The Label's 2020 Indie Showdown.
Community content is available under
CC-BY-SA
unless otherwise noted.